If you're a homeowner in San Diego, there are several circumstances in which you might consider renting out your property. You might choose to become a landlord because you want to pay off debts, ride out a house-price slump, or just raise a little extra cash. Whatever your reason, there are steps you need to take before renting out your property. But what exactly do you need to know to rent out a house in San Diego? And how can you make the whole process work better for you?
Develop a Lease
One of the first things you'll want to do is develop a lease.
A lease is a legal document that spells out the rights, duties, and obligations of both parties involved when renting out a property. Most legal experts recommend that you get professional advice when drafting a lease instead of relying on generic downloadable copies from the internet, since they might not offer sufficient legal protection in the event of a dispute.
When drawing up a lease, you'll want to include the following:
The length of the lease. The length you choose for the contract depends on your circumstances. If you want to rent out a property for a couple of months before you sell, you might arrange a month-to-month lease. This kind of lease allows you to evict tenants with short notice and sell when you need to. If you are looking for your rental property to produce a more stable, long-term income, you might choose an annual contract so that your tenants are locked in for a longer period of time.
Security deposit. The security deposit is the amount you charge renters before they move in. The purpose of the deposit is to cover the costs of any damage caused to your property, unpaid rent, or other unmet conditions of the lease.
Repairs. Be sure to delineate who is responsible for repairs and in what time frame.
Policies on who can occupy the property. You may want to specify who is allowed to reside full-time in the property, besides the primary person paying rent.
Policies on pets. Determine whether tenants may keep animals in your rental home.
Payment of homeowner association dues. Spell out who is responsible for paying the homeowner association dues and the cost of those dues.
Rules and regulations. Outline the rules and regulations the tenant must comply with while occupying your rental property, such as keeping the noise down after 11 p.m.
Eviction terms. Indicate eviction terms, or the reasons you can evict a tenant. For instance, your lease might state that you can seek eviction if a rental payment is more than 30 days late or if the tenant caused deliberate damage to the property.
It's worth stressing again the importance of having a clear and legally valid lease in place before a new tenant moves into your property. The contract will protect you and your property in case there's a dispute.
Decide How Much to Charge for Rent
Another crucial part of developing a lease is settling on a rental value and including that in your agreement. While there's no fixed method for doing this, the best strategy is to check the prices of local, similar properties in your San Diego neighborhood and see how much landlords are charging there. Keep your eyes peeled for neighborhood rental signs, and check newspapers and online property matching sites.
Advertise Your Property
Advertising your property is vital when renting your home. If you don't advertise your property enough, your pool of potential renters shrinks, and you won't have as many options when it comes to selecting good, reliable tenants. Here are five of the best tools to use to advertise your property:
Zillow
Zillow is one of the most popular property search sites, featuring prices, photos, and detailed information about all for-purchase and rental properties on the platform. Zillow has the advantage of being accessible anywhere in the world, so you can make your property available to a much wider range of potential tenants.
Trulia
Trulia is a simplified property listing site that makes advertising rental properties easy. All you need is a single killer photo of the property that you'd like to rent, and you're good to go.
Craigslist
Savvy renters know that if they want to get a good deal on a rental property in San Diego, it's worth their time hopping on Craigslist—the most popular online directory in the world—to find one. Unlike many platforms, advertising on Craigslist is inexpensive and flexible, enabling you to create a bespoke listing.
Apartments.com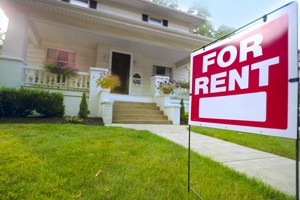 Apartments.com is similar in concept to the other property listing sites we've discussed so far with a single, crucial difference: it focuses on renting out condos and, as you might guess, apartments.
Facebook Groups
With more than two billion members, it's often straightforward to find renters through this social media platform simply by boosting your listing for a reasonable fee.
For more detailed information on how to advertise your rental property, see our blog post "How to Advertise a Property for Rent in San Diego."
How to Find the Right Tenants
It's essential to find excellent tenants for two reasons. The first and most obvious is that you want to get paid on time. The second is that you want to find people who will look after your house as if it is their own. Even if your tenant pays a significant security deposit, bad tenants can cause thousands of dollars of damage—well over the amount of the deposit.
Screening potential renters is, thus, an essential part of the tenant-selecting process. Screening allows you to find anything in a potential renter's history that might indicate they're a risk to your financial wellbeing.
Screening usually involves processes like gathering tenant references and checking their credit histories. Some landlords even pay fact-finding companies to perform criminal background checks, just to make sure the applicant is a safe bet.
Why You Should Get Property Insurance
Unfortunately, your regular home insurance policy won't cover your property if you rent it out to a third party. When you lease a home, the risk of damage goes up. Insurance companies, therefore, require landlords to take out rental home insurance.
Rental home insurance is different from regular home insurance in two important ways. The first is that the premiums are usually higher to cover the added risk. But there's another difference: many policies offer rental income coverage.
Rental income coverage provides benefits such as monthly payments equal to rent checks for up to 12 months if your property becomes uninhabitable due to fire, smoke, or other perils. Though it doesn't cover the cost of damages to the property itself, most policies also come with dwelling coverage to recoup those costs as well.
Note that while rental insurance covers the risks you face, it doesn't protect the renters against the dangers they might face. You'll want to encourage your tenants to take out their own renter's insurance policy to make sure that they can cover loss, damage, or theft of their possessions.
Know What You're Getting Into
Finally, if you're planning on renting out a property in San Diego, you need to have a clear understanding of what responsibilities come with being a landlord. While property rental is a great way to drum up extra cash, there's no such thing as a free lunch (as they like to say in economics). If you want a return, you have to take a risk.
Risks to landlords can come in a variety of forms. One of the most substantial risks is simply the drain on your time. Managing rent collection, property maintenance, and evictions can take up a significant chunk of any given day, which can interfere with your work schedule, personal plans and activities.
Another big risk is that some tenants won't pay you, in which case you have to deal with insurance companies, the renters themselves, and perhaps even legal professionals to fight for your monthly rent check.
Many of these risks, however, are avoidable if you take a pragmatic approach to renting out your home. Though some people choose to manage their own properties, a property management company can come in real handy to landlords who want to ensure their rental home is managed legally and cost-effectively.
Property management companies take care of all the hassle, such as collecting rent, applying for evictions, and organizing property upkeep. They act as a third-party administrator to run the tenancy and property maintenance without eating into your time and energy.
What's more, because property management companies are professionals, so they understand the most efficient methods of developing a lease, advertising your property, and ensuring that your tenants abide by their contracts. Property management agents also typically have relationships with local tradespeople such as electricians and plumbers and can arrange rapid maintenance and repairs as needed.
With high-quality property management companies, you hardly—if ever—need to interact with your tenants. If renters have a problem, they simply call up the agency and a manager will sort it out for them. In short, property managers make renting out a house virtually hassle-free and ensure your peace of mind as a landlord.
Renting out a house in San Diego is a significant opportunity to make some extra income. Though it can seem like a daunting process, with a basic understanding of the home-renting process and the help of resources such as property managers in San Diego, you can be on your way to becoming a landlord in no time.