A home is an investment, so naturally, homeowners want to see their property rising in value. However, there are many different factors that affect the value of your house. And with a fluctuating housing market, if you leave things up to chance, unanticipated downturns in the market could result in your ending up with negative equity.
Whether you are evaluating your property's price as you consider selling or just thinking about your long-term finances, there are some things you can do to increase your home's value.
Carrying out the right home improvements can help you increase the value of your property dramatically. This can be especially true if it's older or visibly in need of an update. Here are some factors to consider and renovations that have generally high returns.
Before You Start, Do the Math
If you are carrying out work to your property in order to increase the value for an immediate sale, then you should always look at the numbers before you jump in and start spending money. The amount that you spend out on your home improvements needs to provide you with an adequate return on your investment. For instance, you could spend a considerable amount of money on refinishing a bathroom, only to find that it doesn't add significant appeal for buyers.
With the average payback on a remodel being 56% of the total cost, it is important that you focus your attention on the areas that will drive this return higher.
Emphasize Exteriors
Curb appeal is everything. Improving the exterior aesthetic of your home is a great way to add value, and exterior improvements currently provide a greater ROI than interior ones.
Think about things like the external walls of your home. For example, the current market highly values manufactured stone veneers. Creating patio and deck areas can be great enhancements for improving yard space. Basically, anything you can do to make your house look good on the outside will be beneficial when you're trying to sell.
Upgrade Your Garage
Along those lines, garages are high on the list of priorities for many prospective homebuyers. They're both practical, as many modern families own more than one vehicle, and usually easily visible from the road. Perhaps because of this, garage door replacement offers up to a 91% return on investment. When you're accustomed to seeing your garage every day, the door's appearance might not seem that important to you. But it seems that for buyers, an updated garage door can have a huge effect on their impression of the home, as it's an important feature of the facade.
Create Light and Space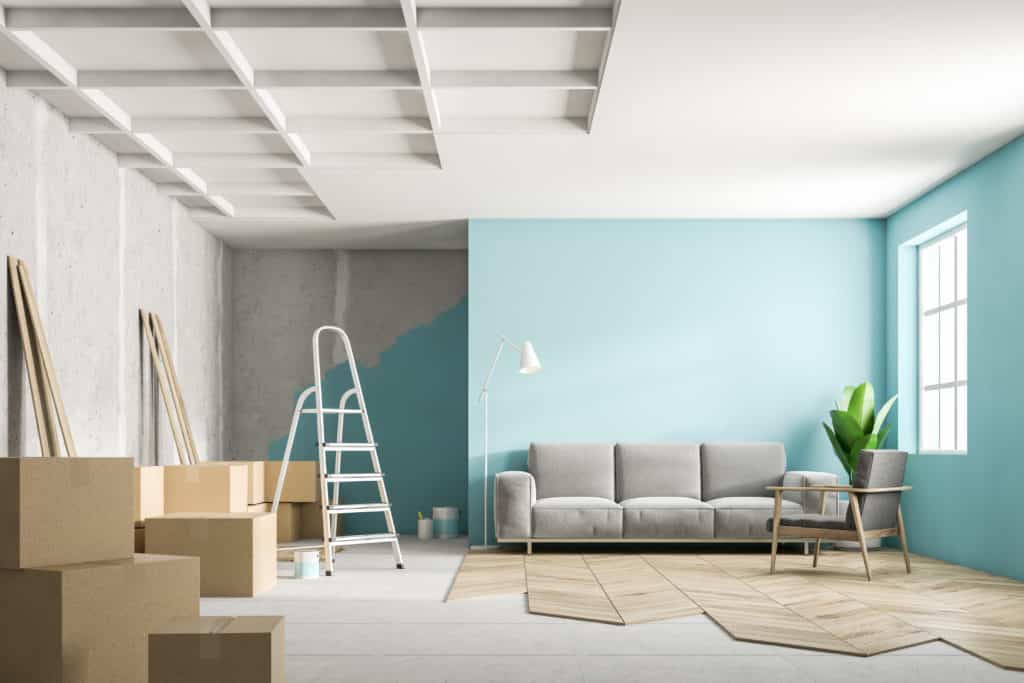 One of the most popular ways to increase the value of a property is to increase the space—or at least the appearance of space. Buyers love the trend of open, airy, light-filled houses, so anything you can do to open space up and let more light in is advantageous. If your home currently has a more closed-off floor plan or rooms that are particularly small, these types of renovations are likely to attract a higher sale price for the property.
Removing walls to create an open-floor living area can create an arrangement that appeals to many buyers. Joining a kitchen with a living room or dining room is a popular choice. But beware of giving up bedroom space; a house with fewer bedrooms will generally sell at a lower price, even though the actual amount of space in the house doesn't change.
Of course, before you plan on knocking out any walls, you should have a full inspection carried out to ensure load-bearing walls are not removed. (It goes without saying that a structurally unsound house is worth significantly less, even if it has a beautiful open living space.)
Remodel Your Kitchen
If your kitchen is visibly dated, remodeling your kitchen may enhance the value and make it more appealing to prospective buyers. However, be aware that minor kitchen remodels have been found to provide a greater percentage return than major renovation works, with minor works achieving an 81% return versus 59% on major works.
That being said, anything you can do to give your kitchen a fresh appearance will be helpful. Updates to large surface areas are beneficial, including a new coat of paint, perhaps updated floors or refinished cabinets, etc. Just remember to choose features that will appeal to a large audience. If you're not planning on staying in your house long-term, then now is not the time to add bright, flashy tiles or other loud features that could clash with buyers' tastes.
Home Improvements For Rental Properties
Renovations that increase property values can be slightly different for properties being rented than ones being sold. You might want to think about adding touches that make older properties look newer. These improvements could include adding hardwood flooring or upgrading the appliances. Renovating any unused spaces in the property, such as the basement or attic, can provide more living space for potential renters. And in cases where some furniture is included in the lease, new couches or mattresses are solid investments.
Consider Your Area
Although this is a generally applicable list, the features that most directly affect your property value depend on where your home is located. Buyers will value different aspects of a house more or less in different locations; for example, in many areas, a backyard pool can make a house harder to sell. (Not everyone wants to manage the maintenance or potential safety issues.) But in some neighborhoods in extremely hot, dry locations, it's almost expected for every home to come with a pool.
At Amanica, we can help homeowners and landlords understand the factors that drive their local property values in Moreno Valley, San Diego, and Riverside, California. As a
Moreno Valley real estate
and property management company, Amanica is here to help. Contact us today if you're looking to sell your home or property.